Bali, known locally as the Pulau Dewata (Island of Gods), is not only the hub of religion and culture. It is also famous for its clear, white-sand beaches, coral reefs and adventure sports activities. Bali, being a resort island, is a great honeymoon destination as well. However, it is great for a family trip with kids and older adults as well.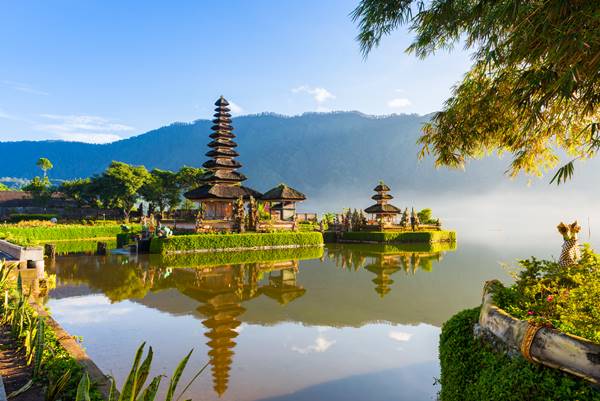 Top things to see and do in Bali
Mount Batur Volcano
Bali is more of a "do" place than a "see" place. One of the many adventurous things you can do when you come here is climbing Mount Batur, located at a height of 1700m. Viewing the sunrise from the peak of the mountain is a blissful experience. We suggest you take guided trek tours that should last for about 2 to 3 hours. This way, you can appreciate the scenic trails, Lake Batur and the active volcanoes better than before.
Surfing on the Kuta Beach
Have you been looking for a beach with not-so-rough waves for surfing? Kuta Beach is a great choice for you. You can get surfing lessons here and rent a surfing board to practice your skills. Kuta, the most popular beach in Bali, is a great holiday spot for you to unwind. Enjoy drinks and dinner in the evening, spending quality time with your loved ones, after you are done surfing.
Sacred Monkey Forest Sanctuary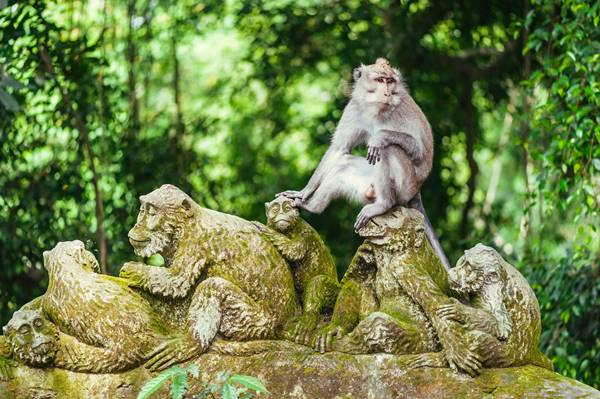 The Sacred Monkey Forest Sanctuary is actually a Hindu temple in Ubud. The place is home to more than 500 monkeys, and it has been in existence since the beginning of the 14th century. Besides taking photos of the monkeys, you can walk around the scenic sanctuary and enjoy nature in its fullest glory. While you can feed bananas to the monkeys, you should be careful about your belongings.
Cultural tour of Ubud
It is not without reason that Ubud is known as the cultural hub of Bali. You are mistaken if you thought that Bali is only about beaches and adventure sports. The Neka Art Museum, which represents the culture of Ubud with its art, paintings and other galleries, is a must-visit place, when you come to Ubud. After walking along the rice paddies, you can visit the local arts & craft stores to buy ceramics, jewelry and other souvenirs to take back home.
Seminyak Beach and Shopping
If you are looking for a one-stop destination for sightseeing, relaxing and shopping, you can visit Seminyak, famous for its beaches, beers and shopping markets. Located to the north of the Legian Beach, the Seminyak Beach is a 3-km stretch of white sand beach. Many adventure sports enthusiasts flock to this beach for surfing and other water sports. Once you are done with your activities, head to the local shopping streets of Bali to buy the best of beachwear, designer wear and exclusive Bali fashion clothes. Head to the rows of bars and restaurants lined along the coastline to enjoy drinks after a tiring day of shopping and surfing.
Diving at Padang Bai
Padang Bai, located in the eastern Bali region is a haven for diving enthusiasts. Enjoy muck diving here to explore some of the best underground critters like the blue-ringed octopus and seahorses. Take a small boat ride from the shore to any of the seven diving sites of Padang Bai. You can see sharks, turtles, and other underground marvels on your muck-diving expedition if you are lucky.
Jetpack in Tanjung Benoa
We already told you that Bali is one of the hubs for adventure water sports. Tanjung Benoa is a must-visit place to get on a water jetpack. Strap on your jetpack and fly up to a height of 10m. As you soar from the waters into the sky, you can enjoy the beauty of Bali from above. Let us tell you; it looks nothing like the Bali that you see from the ground! The entire jetpack session lasts for about 20 minutes, but it gives you memories for a lifetime.
Pura Tanah Lot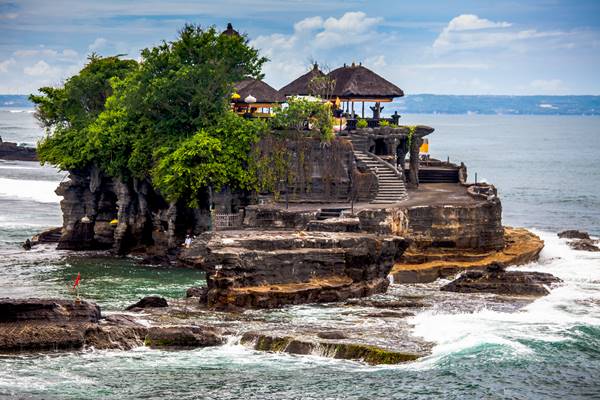 Located on a beautiful rocky islet, the Pura Tanah Lot is one of the iconic Balinese temples that you should visit. During high tides, the sea waves keep kissing the rocks of the temple, making it a sight to behold! Since it is a top tourist destination, we suggest you go early, (at the time of sunrise) to get an uninterrupted view of the temple complex. This temple, constructed in the 18th century, is Bali's most sacred Hindu shrine.
Uluwatu Temple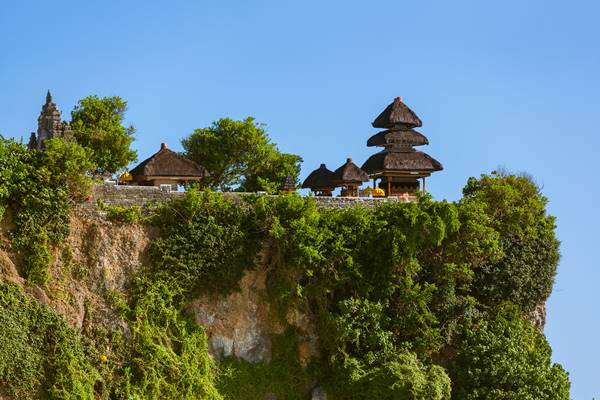 Pura Luhur Uluwatu, or the Uluwatu Temple, located in the Bukit Peninsula, is situated atop a cliff, giving you a remarkable view of Bali's best surfing destinations and beaches. The history of the temple dates back to the 10the century. The locals believe that the Uluwatu temple protects their city against the evil spirits of the sea. The monkeys residing in the temple are believed to guard the city against evil external forces. While you are here, don't miss out on catching some local shows, including the Balinese dance and puppet shows.
Snorkeling in Amed
Do you want to have your share of adventure but without the crowds? Head to Amed for a relaxing snorkeling trip right away. The raw beauty of Amed, untouched by tourists, is something you have to enjoy when you come to Bali. It is a group of small villages, where the locals live in perfect harmony with nature. Amed is a great snorkeling destination, because it offers some of the most brilliant views of the sea, which you cannot experience in other places in Bali.
Bali Travel Tips
Bali isn't just about beachwear. Some of the clubs, restaurants and bars have a dress code, which you must follow, if you want to get inside them.
You have to respect the religious customs and culture of Bali. On the day of Nyepi (Day of Silence), even the Bali airport is closed for operations. So, plan your trip accordingly.
While visiting cultural and religious places (like temples), always dress appropriately. Ensure that your shoulders and knees are covered.
Avoid dining and drinking at high-end bars & restaurants, as they are very costly. Always visit the local markets and stores to taste the authentic drinks and delicacies.
When to visit Bali
You can visit Bali throughout the year. However, the summer season (April to October) is the best to enjoy all the outdoor activities in this beautiful destination.